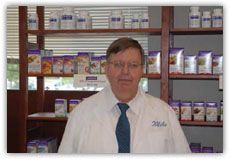 Mike Bochniewicz has been a community pharmacist for over 30 years. His extensive range of experiences, cover almost everything seen in retail pharmacy.
Mike's customers come to his pharmacy regularly for more than just refilling their prescriptions. He will take the time to make sure you understand your medications, including possible drug interactions, side effects, etc. He will also help you choose the appropriate over-the-counter medications including vitamins and nutritional supplements based on your symptoms, the medications you regularly take and your medical condition etc.
Mike's fondest memories of the past 30 years in Pasadena, has been the opportunity to serve customers and their families on a personal and professional level.